VISA Credit Cards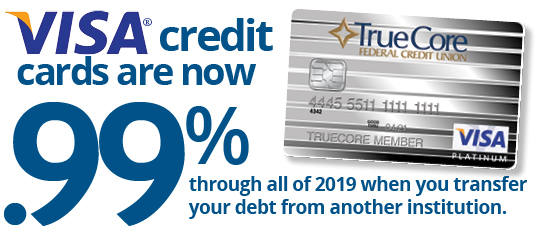 No balance transfer fee (Many banks can charge 3% to 5%!)

No annual fee

EMV chip technology

Free and easy access through online banking




Low rate of .99% on the balance transferred through Dec. 31, 2019

 
Offer is effective January 2 - June 29, 2019. Excludes existing TrueCore Federal Credit Union (TFCU) debt. Must be a member of TFCU. The .99% APR applies to the balance transfer amount only. Approval is based on the credit union qualifications and policies. After December 31, 2019, the rate will increase to as low as 11.95%, based on your credit score. After initial discount rate period, your rate will be fixed.
 Interest Rates and Interest Charges 
| | |
| --- | --- |
| Annual Percentage Rate (APR) for Purchases | 11.95% to 16.95%, based on your credit score. |
| APR for Balance Transfers | 0.99% Introductory APR until December 31, 2019. After that, your APR will be 11.95% TO 16.95%, based on your credit score. |
| APR for Cash Advances | 11.95% to 16.95%, based on your credit score. |
| How to Avoid Paying Interest on Purchases | Your due date is at least 25 days after the close of each billing cycle. We will not charge you any interest on purchases if you pay your entire balance by the due date each month. |
| For Credit Card Tips from the Consumer Financial Protection Bureau | To learn more about factors to consider when applying for or using a credit card, visit the website of the Consumer Financial Protection Bureau at http://www.consumerfinance.gov/learnmore. |
Fees
Annual Fee


None
Transaction Fees
-Balance Transfer Fee
-Cash Advance Fee
-Foreign Transaction Fee

-Transaction Fee for Purchases


None

$1.00
1.00% of each multiple currency transaction in U.S. dollars
0.80% of each single currency transaction in U.S. dollars
None

Penalty Fees
-Late Payment Fee
-Returned Payment Fee

Up to $26.00
Up to $25.00
Helpful information
How do we calculate your balance? We use a method called "average daily balance" (including new purchases).
To report a lost or stolen TrueCore Visa® card, please call 740-345-8052 or 800-865-8177.
Want to change your PIN?  Bring your TrueCore ATM/Debit Card and photo ID to any main office, and we can instantly change your PIN to your number of choice.  Rather change your card's PIN on your own?  Simply call 877-746-6746 and follow the prompts.  This is another free benefit that has been added for your convenience.
Traveling with your TrueCore Card? 
Please let TrueCore know before you travel out of state by calling 740-345-6608 or 800-333-2465. Due to the large amount of fraud that is occurring throughout the country, we have been monitoring what we believe could be fraudulent activity. For your protection, we will block a card if fraud has been suspected on it; for instance, if you are traveling somewhere out of the ordinary. For complete details, please 
click here
.
Credit Calculators