TrueCore Foundation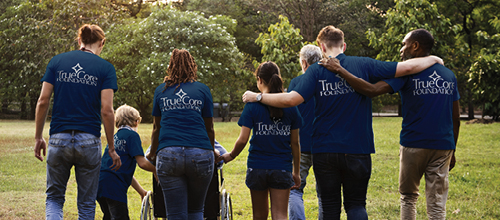 TrueCore Federal Credit Union's mission is to enrich our community.  Giving back to the community has always been a priority at TrueCore, both through financial contributions and employee volunteerism.  That is why TrueCore Federal Credit Union has introduced the TrueCore Foundation.  
The TrueCore Foundation is a 501(c)(3), non-profit organization, supported by TrueCore Federal Credit Union. The volunteer Board of Directors is comprised of a diverse group of credit union employees with a mission to improve the lives of others by fulfilling needs in our community.  The TrueCore Foundation aims to address causes of all sizes, fulfilling unmet needs in our communities.  

TrueCore Foundation Board Members and Officers for 2022
Clinton White, Chair; Tyler Crall, Vice Chair; Casey Barrett, Secretary; Joshua Altop, Treasurer
Sarah Hamilton, Brittany Simmons, Michael Altman, Jocelyn Hartshorn, Scot Veatch
For consideration, please send this completed form, along with any other supporting documentation at least 45 days prior to your event. The form contains guidelines that help us assure that donations and/or sponsorships are used in ways that best serve our membership and community.

For information on how you can support the TrueCore Foundation's efforts, please contact Board Chair Clinton White at
foundation@truecore.org
.  All sponsorships will be reviewed monthly and handled accordingly. Due to the high volume of requests, no phone calls please. Thank you.