Debit Cards
TrueCore's debit cards are free with a checking account. Choose from several designs, and show support for your school or favorite community landmark!
Available at any TrueCore branch.
Ready in seconds... No waiting on the U.S. Mail.
It's free with a checking account, and you can even choose your own PIN.
Contains EMV chip and contactless technology.
You won't find these designs anywhere else!
Click here to view our debit card design collection.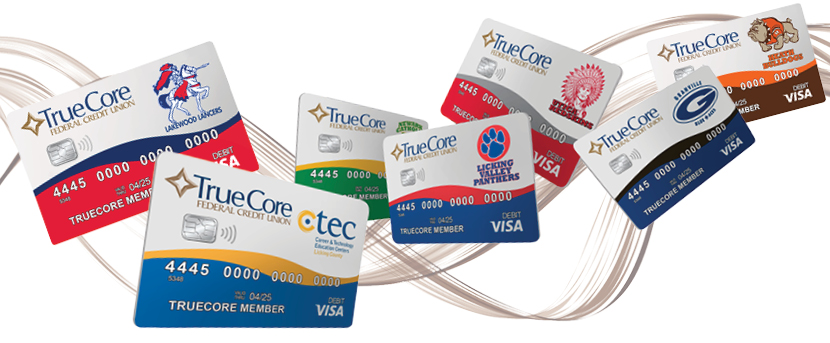 Pick Your PIN!
Bring your TrueCore ATM/Debit Card and photo ID to any main office, and we can instantly change your PIN to your number of choice.  Rather change your card's PIN on your own?  Simply call 888-891-2435 and follow the prompts.  This is another free benefit that has been added for your convenience.


When using a debit card, should you choose debit or credit?
When checking out, a sales clerk usually asks if you're using debit or credit. And if you're using your debit card, you probably say debit. But always say credit. By choosing credit, money still comes directly out of your checking account. If the screen on the keypad asks you to enter your pin, simply press cancel. Your transaction will still be processed the same. That saves your credit union money, which means better rates for you.
Need to change your Apple Pay info?

On your device, go to Settings>Wallet & Apple Pay, tap a card, then tap on what you want to update.  If you are unable to edit the card information, you can add a new card, then delete the old one.


To report a lost or stolen debit/ATM card, call 740-345-8052.
Introducing the latest debit card update to our mobile app!
For the iPhone and Droid, you now have access to card controls. This feature allows you to turn your debit card on and off and schedule travel dates.
Traveling with a TrueCore Card
Please let TrueCore know before you travel out of state by calling 740-345-6608 or 800-333-2465. Due to the large amount of fraud that is occurring throughout the country, we have been monitoring what we believe could be fraudulent activity. For your protection, we will block a card if fraud has been suspected on it; for instance, if you are traveling somewhere out of the ordinary.
For complete details, please click here.
Add our Debit Card Round-Up Savings Program to your account.