Youth Savings Clubs
Dollar Dog Club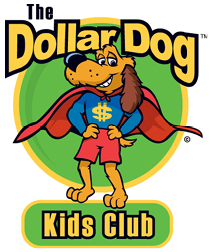 If your child is age 12 or under, the Dollar Dog Club is a fun way to teach kids how to save money. It teaches them that when they save money now, they will be rewarded in the future.
From the minute your child is born until the day before their 13th birthday, they can be a part of the Dollar Dog Kids Club! All you have to do is sign your child up for a TrueCore membership and open a savings account. This can be done at any of our locations. All you will need to provide is your child's social security card.
For every $25 put in to the Dollar Dog Kids Club account, the child will receive a Dollar Dog stamp. The more money the child saves, the more stamps they will earn to trade in for rewards.
10 Stamps = One (1) $5.00 Dairy Queen® Gift Card or One (1) $5.00 AMC Movie Gift Card
Click on GO to join the fun! 

---
Money 101 Club

If you're age 13 to 18, the Money 101 Club will give you access to:
Did you know that you can earn prizes every time you save money at TrueCore?
Every time you deposit $25.00 into your Money 101 savings account, you'll earn a stamp. Ten stamps will earn your choice of: One (1) $5.00 Dairy Queen® Gift Card or one (1) $5.00 AMC Movie Gift Card.
---
Dollar Dog and Money 101 Club Certificate Rates
| Term | Minimum | Rate | APY* |
| --- | --- | --- | --- |
| 12 Months | $250 | 0.15% | 0.15% |
For complete details, call or text a Member Service Representative at 740-345-6608.