TruePerks Rewards Program

For free, automatic enrollment, simply:
Members of the rewards program can enjoy these perks: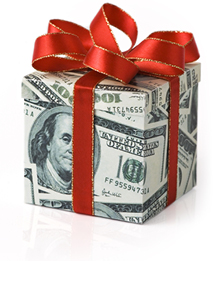 $100 cash back on any new first mortgage
$20 cash back on any new consumer loans
Up to .25% increase on Share Certificates (sometimes even more if there is a special offer!)
.25% off Loan Rates (secured consumer loans only)
10% APY on savings, exclusively through Change It Up℠ (TrueCore's free debit card round up program)
Free checks
Free cashier's checks
Free official checks
Free money orders
Free gift cards
Free paper statements for Prime Time Gold members
VIP events & special offers
The TruePerks Membership Rewards Program is effective as of April 2018 and is exclusive to qualifying members of TrueCore Federal Credit Union. To qualify for this program, members must use their TrueCore debit or credit card at least 15 times per month, have free e-statements, use direct deposit, and utilize free e-services. Debit Card: Member must have a checking account (age 13 and up) to qualify for a debit card. Checking account opening is subject to third party screening. E-statements: Enrollment is free, but exceptions can be made on this requirement in cases where one does not have internet access. Direct Deposit: Amount must be at least $500 in a 45 day period; exceptions can be made if direct deposit is not available to the member. E-services: TruePerks qualification requires that a member accesses their TrueCore account via an electronic channel once every 30 days. These channels include online, mobile, Bill Pay, and Quick Pic Deposit. Exceptions can be made on this requirement in cases where one does not have internet access. Change It Up: There are no withdrawal restrictions on the Change It Up savings account. APY= Annual Percentage Yield and is accurate as of April 2, 2018. APY is based on monthly compounding for one year. In order for a debit card transaction to be included in the round up, it must be a signature-based transaction (credit). Cash back on closed loans may be transferred into your Change It Up savings account. Rates and terms are subject to change without notice. Some restrictions may apply. Credit Card: Member must be 18 to obtain a credit card; some restrictions may apply. TrueCore reserves the right to modify the program at any time. This credit union is insured by the National Credit Union Administration.