Federal Deposit Insurance
Share accounts in federally insured credit unions (like TrueCore) are insured up to $250,000.00--just as with FDIC coverage at banks. Generally, if a credit union member has more than one individual account in the same insured credit union, those accounts are added together and are insured up to $250,000.00.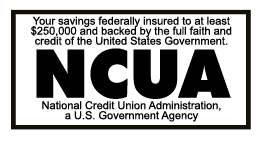 However, shares maintained in different legal ownership capacities may each be separately insured, which means that you may be able to keep substantially more funds at the credit union--conveniently and safely--and still have every dollar protected by federal insurance.
TrueCore is ready to help you achieve maximum NCUA insurance coverage for your particular situation. We can show you how to maximize your coverage through various types of ownership and other means. Another helpful resource is the interactive NCUA Share Insurance Estimator.